SUPPORT ORGANISATIONS
BCNA For Australians affected by breast cancer. In particular, check out their page on breast cancer in young women.
BREACAN
An information and support service for Victorian women living with breast cancer and gynaecological cancer. BreaCan has a drop-in resource centre in Melbourne's CBD.
THINKPINK FOUNDATION
For women and men diagnosed with breast cancer, their families and carers. ThinkPink runs The Living Centre, a resource centre on St Kilda Road in Melbourne with an emphasis on wellness.
THE OTIS FOUNDATION
Retreats for women and men living with breast cancer at no accommodation charge. "We aim to provide immediate relief to people who need a short-term break away… Otis retreats offer time out to relax, reconnect and regroup for those dealing with the challenges that come alongside serious illness."
WORLD WIDE BREAST CANCER
Information on how breast cancer looks, feels and is found. Their educational material features lemons in place of boobs, which we think is awesome. Download the Lemons poster below.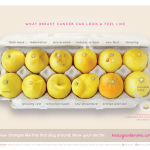 CANCER COUNCIL VICTORIA
An independent, not-for-profit organisation reducing the impact of all cancers on all people. Their telephone service, Cancer Connect, lets you speak to someone who's gone through it and understands – great for when you need extra support between Boob Club meet-ups.
CANCER AUSTRALIA
Australian Government website for in 2006 to benefit all Australians affected by cancer, and their families and carers. In particular, check out their page on breast cancer in young women.
GOODNESS ME
Goodness Me is published by Epworth HealthCare, and feature articles full of tips and information from a team of experienced staff and doctors.
PUBLICATIONS 
MY JOURNEY KIT 
Free information kit for the newly diagnosed, and your friends and family.
DR SUSAN LOVE'S BREAST BOOK 
A bible for the newly diagnosed and a great supplement to your My Journey Kit
FERTILITY-RELATED CHOICES
A decision aid for younger women with early breast cancer – a thorough, informative resource from BCNA for those who want to explore their fertility and family-planning options.
FERTILITY AND CANCER
Another worthwhile read if you're concerned about the effects of cancer and treatment on your fertility
WORKSHOPS AND WEBINARS
GO GIRLS – DARE TO DREAM WORKSHOP
Free workshops put on quarterly by The Living Centre  for women recovering from early breast cancer. The Living Centre has all sorts of free services, including massages, manicures and yoga.
LOOK GOOD FEEL BETTER
A free community service program that helps women manage the appearance-related side effects of chemotherapy and radiotherapy.
HELP LIFE GET BETTER
Services offered by Cancer Council NSW. Some of our members have found their webinars to be informative.
We have also compiled a list of resources and helpful hints from our members. Follow the links below:
HEALTH & WELLBEING
TIPS FROM MEMBERS